Personalized Golf Fitness

The Metro Wellness Pavilion
800 East Gate Blvd.
Garden City, NY 11530
(516) 745-8050
www.metropt.com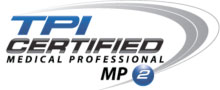 CALL NOW TO BOOK YOUR APPOINTMENT! (516) 745-8050
Goal of Program: To help give you an edge when out on the course; creating a more balanced and efficient swing. Client is evaluated and treated by a Titleist Certified Physical Therapist which he or she will use based on their findings: joint mobilizations, therapeutic exercise and stretches, modalities and functional corrective techniques.
What is TPI?
TPI is the leader in the golf performance industry with programs and instructors worldwide. TPI professionals are trained to administer TPI's golf specific evaluation and design custom workouts to meet your needs.
Metro Physical Therapy provides Golf Specific Evaluations in order to design custom workouts to enhance your golf game.
Golf Specific Evaluations and Workouts to enhance your golf game.
Improve your golf game.
Take strokes off your golf game and add power to your backhand.
Learn to hit the ball further and straighter with an easier efficient swing.
Become pain free in all swing motions so your able to perform at the top of your game longer.
Learn proper body mechanics to prevent future injuries.
Cost of Program
Evaluation by Certified Medical Professional - $200
One-on-one: Head to Toe Physical Evaluation by Licensed Physical Therapist 60 mins Includes:
A Balance and Posture Evaluation
Includes a Proven Custom Home Exercise and Stretching Program to increase swing efficiency
Typed evaluation of muscular imbalances and possible movement dysfunctions
Treatment by Certified Medical Professional - $100
One on one treatment session with Physical Therapist and Personal Trainer 60 mins
Includes any manual passive and active techniques to correct faulty posture biomechanics during golf swing
Call Metro PT at (516) 745-8050, the main location, for a golf evaluation and have Sherrie Glasser P.T, M.S. TPI certified medical professional evaluate you.
Get back into the Swing of Things