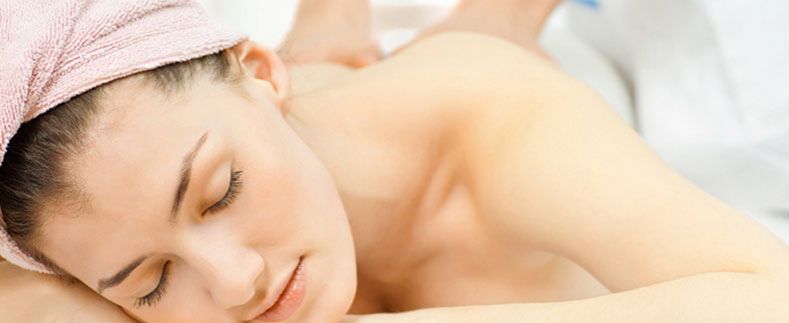 Massage Therapy
Swedish Massage is the most widely practiced type of massage in the western world. Swedish massage is a soothing and relaxing experience distinguished by light to medium, long flowing strokes that improve circulation and joint mobility while promoting relaxation and stress relief.
Deep Tissue Massage is a therapeutic massage that focuses on areas of chronic pain and stiffness. Strong pressure and trigger point therapy are used to release muscle adhesions or "knots", thus alleviating discomfort and improving range of motion.
Sports Massage is designed to enhance athletic performance and recovery. Three contexts in which massage can be helpful to an athlete are pre-event, post-event, and injury. Pre-event focuses on light pressure with quick strokes to improve circulation, without fatiguing muscles. The muscles are drenched with rich oxygenated blood, improving performance. Post-event massage can reduce recovery time, enabling an athlete to resume training much sooner than rest alone would allow. Helps decrease delayed onset muscle soreness by flushing out lactic acid. When an athlete sustains an injury, skillful massage therapy can often speed and improve the quality of healing of the injury, allowing them to return to training quicker.
Manual Lymphatic Drainage is administered through a series of strokes applied to the body with intention to stimulate the movement of the lymphatic fluid in order to assist the body in cleansing. It is a very gentle rhythmic technique that cleanses the connective tissue of inflammatory materials and toxins, enhances the activity of the immune system, reduces pain, and lowers the activity of the sympathetic nervous system. Predominantly used as a treatment for lymphedema, MLD offers many health benefits and uses. MLD can also be used as a detoxification treatment, may help decrease the appearance of cellulite, abdominal bloating, and can help reduce post-surgical swelling from orthopedic or cosmetic surgery.
Pre-Natal Massage is suited just for the important needs of the expectant mother. Lying on the back and side, we use bolsters and pillows to insure a comforting experience. A Swedish technique is used to provide relaxation, relieve low back pain and tired achy feet.
Reiki is a form of energy work that promotes deep relaxation and releases energy blockages within the body. Ideally our energy or Qi should flow fluidly throughout the body. Unfortunately, stress, tension, and physical ailments can create blocks of energy or stagnation in our bodies, thus decreasing our body's natural ability to heal itself. Reiki is applied with the receiver fully clothed and follows a "laying of the hands" over our bodies seven energy centers, referred to as Chakras. The intention of the practitioner is to balance the energy flow between chakras, promoting self-healing and a sense of wellbeing.
Reflexology is a modality from ancient Egypt. It is believed that the entire body and its organs are reflected on the feet, hands and ears. By working on these areas with specific techniques and good intention, stress, illness and pain may be alleviated. Your body's natural balance and well-being is enhanced.
Integrated Massage combines a variety of modalities and techniques such as Swedish, deep tissue, trigger point therapy, reiki energy work, and stretching into one session. Intuitively applied by the practitioner, it supports a holistic mind-body approach to healing, rather than drawing in on one discipline. The treatment is customized to the client's needs and goals.
Add On Services
Aromatherapy can be incorporated into any style massage to offer the added benefits that many essential oils possess. Essential oils may help promote a clear mind, improve relaxation, stress relief, headache relief, decrease muscle and joint pain, and/or decongest sinuses. $5
Stone Therapy incorporates the use of hot or cold basalt stones into your massage treatment. Stones are placed on key pressure points to promote circulation and are used to massage and soothe tight, sore muscles. $10
---
Appointments
With busy lifestyles and changing schedules, we understand how fitting these services into your daily life may be challenging. To help fit your needs, our therapists offer various hours. We schedule all appointments on an individual basis to help fit your needs. Please call and let us know the best time for you and we will do our best to accommodate you. Evening and Weekend appointments are available.
We appreciate a 24 hour cancellation notice.
Treatment Prices
30 Minute Massage: $45
60 Minute Massage: $80
90 Minute Massage: $120
Wellness Packages
5 (30 Minute) for $200 ($25 savings)
10 (30 Minute) for $400 ($50 savings)
5 (60 Minute) for $350 ($50 savings)
10 (60 Minute) for $700 ($100 savings)
Gift Certificates Available!
*Discounts, promotions and add ons are available on 60 or 90 minute sessions only and cannot be combined. Wellness Packages expire within 1 year.
---
Rebecca Miller LMT, PTA, CLT
Rebecca Miller is a Licensed Massage Therapist, Physical Therapist Assistant and Certified Lymphedema Therapist. Rebecca currently works full time at Metropolitan Physical Therapy as a PTA providing patients with Physical Therapy and Massage Therapy. This unique dual license allows Rebecca to truly understand the body and allows her to offer patients another modality to help them get better. In the clinic, Rebecca primarily treats Orthopedic Injuries (Chronic and Acute), Chronic Pain conditions, Pediatrics, Women's Health and Lymphedema patients. Rebecca prides herself in her manual techniques and helping patients engage in a mind/body connection to help facilitate their healing process.
Rebecca practices Massage at two of Metropolitan Physical Therapy Locations. With her background in Physical Therapy and working with some of the best Physical Therapists in the field, she has a thorough understanding of how the body works and has effectively treated some of the most difficult diagnoses and conditions.
Rebecca has been a licensed LMT for over 7 years. She graduated in 2004 from Finger Lakes School of Massage in Ithaca, NY where they specialize in unique integrative massage. Integrative massage combines a variety of modalities into one session so you are never just having a Swedish massage, or deep tissue massage. Intuitively, she combines different modalities into her massage to customize each session to what your body specifically needs. Every massage is uniquely different and every massage is geared to accomplish your goals for that session. Rebecca has worked as a Massage Therapist in many different types of facilities, including spas, chiropractor offices, wellness centers and PT practices. Rebecca takes part in a variety of Charity events, such as the Wounded Warrior Run. She has provided Chair Massage for Students on Campuses and sports Massage for the annual Manhattan to Montauk Bike Ride.
In April of 2012 she became a Certified Lymphedema Therapist and has since been successful in working with patients who have developed Lymphedema following breast cancer mastectomy or prostate cancer. She looks forward to treating more of this population as the need for Lymphedema therapy continues to grow. Rebecca hopes to educate the public and other health care providers on the proper treatment and diagnosis of Lymphedema.
For more information go to http://www.blendedbodywork.abmp.com/rebecca-miller-lmt-pta-clt