Metropolitan Physical & Aquatic Therapy is now providing Free Silver Sneakers Muscular Strength and Range of Movement Exercise Classes
Get Fit with Silver Sneakers at Metropolitan Physical & Aquatic Therapy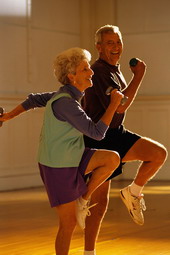 Metropolitan Physical & Aquatic Therapy is now providing free Silver Sneakers exercise program and fitness opportunities for eligible seniors at our Rocky Point, Cuttermill Great Neck, Atria Roslyn, Atria Kew Gardens, Long Beach, and Commack locations. The Silver Sneakers Fitness Program can help participants get the physical activity they need to be healthy and stay independent. Regular physical activity combined with good nutrition has many positive health benefits.
Responses on the annual Silver Sneakers Member Survey and research reported by respected institutions such as Stanford University show that being physically active and eating right can help:
Reduce the number of physician visits and hospitalizations.
Positively affect diseases and chronic conditions such as heart disease, hypertension, diabetes, osteoarthritis, osteoporosis, COPD and obesity.
Enhance feelings of well-being and self-confidence and reduce feelings of depression and anxiety.
Silver Sneakers instructors at Metro PT are licensed physical therapists trained to help you work out safely and to see the results of your efforts. The Silver Sneakers goal is to incorporate strength training in conjunction with aerobic exercise to:
Increase muscle strength, maintain bone integrity, and improve balance, coordination and mobility.
Improve arthritis, osteoporosis and back pain.
Improve your mental and emotional health.
Improve your overall health and looks by building muscle, which burns more calories and makes your look leaner!
To see if you are eligible for Silver Sneakers, call their customer service: 1-888-423-4632.
[Printable Version]