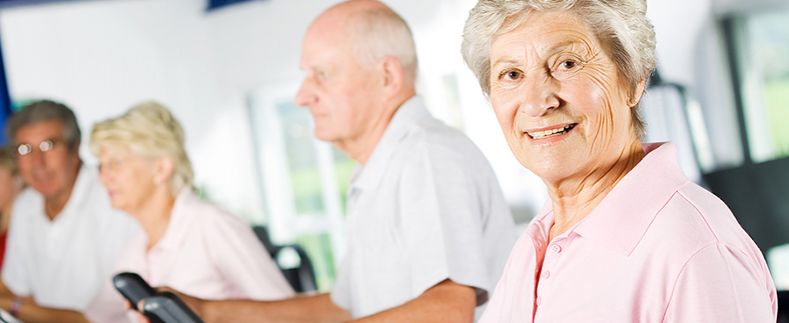 Metropolitan Physical & Aquatic Therapy is now providing Free SilverSneakers Muscular Strength and Range of Movement Exercise Classes
Free Eligible Seniors, Get Fit with SilverSneakers at Metropolitan Physical & Aquatic Therapy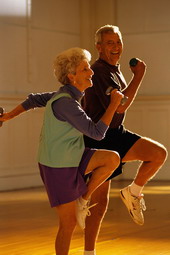 Metropolitan Physical & Aquatic Therapy is now providing free SilverSneakers exercise program and fitness opportunities for eligible seniors at our Garden City, Atria at Roslyn Harbor, Atria Kew Gardens and Port Washington Senior Citizen Center locations. The SilverSneakers Fitness Program can help participants get the physical activity they need to be healthy and stay independent. Regular physical activity combined with good nutrition has many positive health benefits.
Responses on the annual SilverSneakers Member Survey and research reported by respected institutions such as Stanford University show that being physically active and eating right can help:
Reduce the number of physician visits and hospitalizations.
Positively affect diseases and chronic conditions such as heart disease, hypertension, diabetes, osteoarthritis, osteoporosis, COPD and obesity.
Enhance feelings of well-being and self-confidence and reduce feelings of depression and anxiety.
SilverSneakers instructors at Metro PT are licensed physical therapists trained to help you work out safely and to see the results of your efforts. The SilverSneakers goal is to incorporate strength training in conjunction with aerobic exercise to:
Increase muscle strength, maintain bone integrity, and improve balance, coordination and mobility.
Improve arthritis, osteoporosis and back pain.
Improve your mental and emotional health.
Improve your overall health and looks by building muscle, which burns more calories and makes your look leaner!
To see if you are eligible for SilverSneakers, call their customer service: (888) 423-4632.
---
Spring into Fitness with SilverSneakers and Metro Physical Therapy
Proper nutrition and adequate physical activity are important at any age but can play a critical role in our lives as we age. Millions of older adults are taking stock of their health and hitting the gym to get the physical activity they need to stave off chronic illnesses such as heart disease, diabetes, colon cancer and high blood pressure. Regular physical activity has beneficial effects on most (if not all) organ systems, and consequently prevents a broad range of health problems and diseases.
You?re never too old to exercise. Physical activity is likely to help keep you feeling young versus living a sedentary life. Activities that help build muscle strength, improve balance, and promote walking significantly reduce falls in older persons. Whether you enjoy walking on the treadmill, riding the stationary bike or taking group exercise classes like those available through the Healthways SilverSneakers® Fitness Program, it's important to keep moving.
If you are new to exercise or haven't exercised in a long time, be sure to consult your physician before starting a program. Here are some helpful tips for staying active this spring:
Engage in at least 30 minutes of moderate activity, such as brisk walking, on five or more days.
Include strength training exercises in your regular workouts at least twice a week to improve and maintain muscular strength and endurance.
Make sure physical activities that enhance and maintain flexibility are part of your routine.
If you have difficulty with your mobility, perform moderate amounts of low-impact activities such as swimming, water exercises or stretching. Gentle forms of yoga and tai chi help to promote flexibility, improve balance and increase strength.
The SilverSneakers Fitness Program has been proven to reduce health care costs by improving the health and well-being of members, helping them become active and motivating them to stay that way. With the SilverSneakers premier network, members have access to a variety of participating locations throughout the country, including Metro Physical and aquatic Therapy located at 800 East Gate Blvd. Garden City, NY. They offers the signature SilverSneakers® Muscular Strength & Range of Movement plus additional signature SilverSneakers classes, such as Classic and Cardio Fit.
Visit www.metropt.com for more information about our complete fitness and Wellness Pavilion. Make Metro Physical Therapy your headquarters for fitness this spring and let SilverSneakers help you take charge of your health!
To find out if you are eligible for SilverSneakers, please contact your health plan or stop by 800 East Gate Blvd. Garden City, Ny 11530, right by the DMV, off Zekendorff Blvd. For more information on the program, call toll-free (888) 423-4632 or visit www.silversneakers.com.
Phone: (516) 745-8050
Fax: (516) 745-8055
Email: info@metropt.com
Located at Metro Wellness Pavilion